Real-World Examples of Machine Learning Applications
In a previous post "What Is Machine Learning?" I discuss how machine learning developed as a way to overcome certain limitations in the early days of artificial intelligence. Without machine learning, machines would be able to do only what they were told or were programmed to do. Machine learning expands their capabilities beyond what they were merely programmed to do.
As shown below, machine learning has real-world applications across a wide variety of fields ranging from data security and software development to investing and healthcare.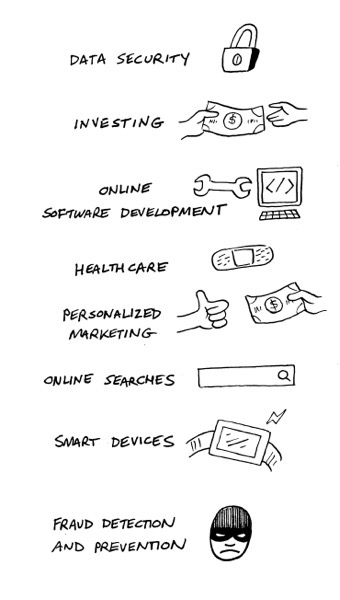 One of the best ways to understand machine learning is to look at the various applications of machine learning in the real world:
● Data security: Malware (viruses, worms, etc.) is constantly evolving to avoid detection, but changes to malware code typically constitute only about two to ten percent of code; the rest of the code remains unchanged. With machine learning, security software can identify patterns in the code and distinguish what has changed from what hasn't. This enables the software to identify new versions of malware. Machine learning is also useful for detecting early warning signs of infection from unknown malware, such as an unexplained drop in available system resources.
● Investing: Machine learning algorithms drive about 70 percent of all trading volume on the U.S. stock exchanges. With machine learning, computers can process vast amounts of financial data and quickly analyze stocks, bonds, trading trends, and other information to identify which investments have the greatest potential for positive returns. Computers are also capable of executing trades faster than humanly possible, which may provide investors with another advantage.
● Online software development: Software developers can use machine learning to create software that automatically adapts to user behaviors. For example, as someone who plays an online game becomes more skilled, the game can make itself more challenging. Developers can also use machine learning to identify ideas for new features and new ways to monetize the software.
● Healthcare: It is highly unlikely that machines will replace doctors anytime soon, but machine learning has become a valuable tool in the healthcare field. Machine learning can identify patterns in medical images or symptoms to improve the accuracy of diagnoses and treatments. Machines may also be better at reviewing the medications a patient is taking and alerting the patient or pharmacist of possible drug interactions.
● Personalized marketing: Companies have been using machine learning for some time to market their products and services to consumers. For example, Google and Amazon keep track of your search and purchase history in order to make targeted product recommendations. Netflix and Spotify use machine learning to recommend movies and music based on your viewing or listening history.
● Fraud detection and prevention: Credit card companies keep track of where cardholders use their cards, what they buy, the average transaction amount, and more. These companies then use machine learning algorithms to identify any transactions that break the cardholder's usage patterns. Any suspicious activity triggers a fraud alert and possibly an automatic suspension of the account. The cardholder may then be required to call the credit card company to have the suspension lifted.
● Online searches: Google, Bing, Yahoo!, and other search engines use machine learning to rank items in their search results, which is why search results typically differ based on several factors, including your browser's search history, your current geographical location, and the relevance of various websites to the search word or phrase. If you use your smartphone to search for "grocery store," for example, you're likely to be presented a list of grocery stores in your general vicinity.
● Smart devices: Smart devices collect data regarding their usage, then personalize their operation based on those patterns. For example, a smart home may learn that whenever you unlock the front door at a certain time in the evening, it means you have returned home from work. The smart lock then signals the smart thermostat to adjust the temperature accordingly. Smart devices may even use facial recognition technology and security cameras to identify a home's residents and then warn the homeowner (or notify police) if someone other than a resident approaches or enters the home at certain times.
● Self-driving cars: Self-driving cars have made the transition from science fiction to the real world. By combining machine learning, video, GPS, robotics, and a host of other technologies, cars can now drive themselves, although some mishaps have occurred.
These are only a few of the vast number of machine learning applications that are possible. As machine learning matures, you are likely to see many more real-world applications and consumer products and services driven by machine learning.
Democratizing data involves making it available to personnel throughout an organization and providing them with the tools and training needed to query and analyze that data. In this post, I discuss the potential benefits and drawbacks of data democratization and provide some general guidance for democratizing data.
Benefits of Data Democratization
Distributing data and business intelligence throughout an organization delivers the following benefits:
Having more people examine the data from different perspectives increases the organization's knowledge through discovery and learning, leading to greater innovation.
Democratization is a self-service model, which removes some of the burden of analyzing data and producing reports from the data science or IT team, so they can focus on higher level tasks.
Enabling personnel to access data and analytics on-demand increases the pace of business. Personnel can ask and answer questions and make decisions on their own (when appropriate) without necessarily having to go through the data gatekeepers.
Everyone in the organization has the resources to make data-based decisions, which, at least theoretically, leads to better, faster decisions.
Potential Drawbacks of Data Democratization
Nearly every organization that democratizes its data properly reports that the benefits of doing so far outweigh any potential drawbacks. However, organizations do need to address the following concerns:
Increased risks to data security, privacy, and integrity. For example, storing employee records in a central data warehouse makes those records more susceptible to security breaches.
Misinterpretation of data or analytics by untrained personnel can lead to bad data-based decisions.
Duplication of effort across different teams may be more costly than having a central data science team.
With different teams performing their own analytics, an organization may end up with multiple versions of the truth, which can lead to diminished confidence in the analytics system.
Drivers of Democratization
Traditionally, the IT department has owned the data and was in charge of extracting meaning from it and presenting the information to executives and managers. The development of various technologies, tools, and techniques is driving the movement toward greater democratization of data:
Central storage, particularly cloud storage: Instead of having each department manage its own data, which results in the creation of data silos, all data is stored in a central data warehouse, so an organization has a "single source of truth."
Business intelligence (BI) dashboards: BI dashboards facilitate the process of selecting, aggregating, and analyzing data, often displaying the results graphically in the form of tables, graphs, maps, and so on. These visualizations make the data easier to understand.
Enterprise agility: To remain competitive, organizations have an increasing need to achieve enterprise agility — the ability to quickly adapt to market changes and capitalize on emerging opportunities. Democratizing data increases enterprise agility by empowering teams at all levels across an organization.
Democratizing Data in Your Organization
Democratizing data is not a simple matter of providing everyone in the organization unfettered access to all of the organization's data, especially if the organization stores sensitive data. To democratize data safely and effectively, consider the following guidelines:
Establish strong governance to protect privacy, security, and data integrity. Each person given access to the data and BI tools should have a username and password, so IT can assign an access level to each user. For example, human resource managers may be the only ones who have access to personnel records.
Train personnel on how to use the data and tools. Technology is no replacement for education and skills. Everyone using the information system should know how to use it and for what purposes. Preferably, any training will focus on applications relevant to the person's position and job duties.
Encourage personnel to ask questions and use the system to answer them. Don't assume that "If you build it, they will come," to borrow a phrase from the movie Field of Dreams. Just because you place a new, powerful technology in the hands of users doesn't mean they will embrace it. Make sure the C-level executives actively promote the information system. Celebrate any "wins" that can be attributed to the information system. Once people experience the value of data and BI for themselves, they'll be hooked, but you need to grease the wheels to get them moving.
Shift the data science team's responsibilities.When you democratize data, you're distributing the data science team's analytical burden throughout the organization. This frees up the team to explore data at a deeper level. However, the team should allocate some of that additional time to finding better tools, sharing them with other teams in the organization, and providing training on how to use them. In other words, the data science team should put some effort into empowering personnel across the organization to become better data scientists.
If your organization currently places the power of its data in the hands of a few, I hope this article encourages you to strongly consider the possibility of democratizing your organization's data. By placing the power of data and analytics in the hands of the many, you're likely to be surprised by the resulting increase in innovation and agility. Your organization will be much better equipped to adapt in a competitive landscape that's constantly changing.